Masonicare of Wallingford Connecticut
Masonicare is the state's leading provider of healthcare and retirement living communities for seniors. Masonicare is a not-for-profit and has more than 100 years of experience behind them. Masonicare is recognized for the quality, compassionate care and steadfast support they provide to residents and patients.​
Masonicare's roots date back to 1750, when Connecticut's first Masonic Lodge was chartered. Nearly 150 years later, in 1889, Connecticut Masons began a charitable fund that became The Masonic Charity Foundation of Connecticut, and in 1895, dedicated an 88-acre homestead in Wallingford as The Masonic Home.​​
For more information on Masonicare's wide array of services are available here: Masonicare Services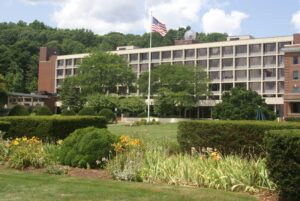 ​​Now Open to All
At its inception, The Home's mission was to care for the elderly and orphans with Masonic connections. During the ensuing years, Masonicare grew exponentially and greatly expanded its healthcare services and retirement living options. The organization, which is now open to all – not just Masons – employs more than 2,500 people throughout the state.​
​​​Today, Masonicare encompasses a broad range of healthcare and senior living options:​