---
Join us for our annual
GRAND MASTERS DAY FAMILY FESTIVAL
SATURDAY, JUNE 10, 2017
10:00 a.m. – 3:00 p.m.
Masonicare Campus – 22 Masonic Avenue, Wallingford
Special Guests:
Bro. Theodore J. Nelson – Most Worshipful Grand Master, Grand Lodge of Connecticut A.F. & A.M.
Bro. Ellis G. Simpson, Jr. – Most Worshipful Grand Master, MW Prince Hall Grand Lodge of Connecticut
Activities and fun for all ages!
• Parade (10:30)
• Free children's rides and activities for toddlers to teens
• Concert under the main tent with Tuxedo Junction Big Band (12:45 p.m.)
• Free horse & carriage rides
• Bloodmobile (9:30 – 1:30)
• Great reasonably priced food including fried dough and several food trucks including Ted's famous steamed cheeseburgers, pizza and cannoli trucks and more!
• CTChild ID Program (CTCHIP)
• Model Railroad Room
• Health fair with free screenings
• Face painting and crafts
• Vendor booths
• Free admission!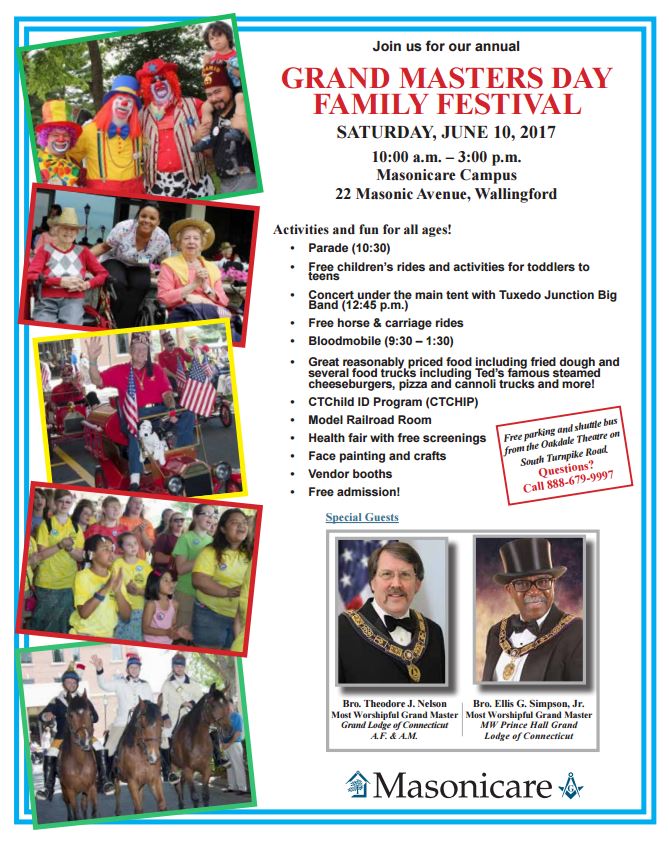 GRAND MASTERS DAY FAMILY FESTIVAL 2017